goodparla
Whole Beef Deposit
Regular price
$1,050.00 USD
Regular price
Sale price
$1,050.00 USD
Unit price
per
Sale
Sold out
Signature cuts include about:   
Premium Ground Beef:   In convenient 1 lb. packages.  Approximately 40%
Savory Cuts: Roasts, Stew meat in convenient 1 lb. packs, Cross Cut Shanks,  Brisket, Back Ribs, & Korean Style Ribs.  Approximately 30%
Steaks: 8 Sirloin Tips,  1 lb. packs of Minute Steaks, Top Sirloins, Kansas City Strips, Rib Eyes, Filet Mignons, Skirt, Flank, & Tri-Tip.  Approximately 30%
Dry aged up to 14 days
A whole beef is 300 lbs
$14 per lb plus $2 per lb shipping
Total cost is $4,200, with shipping it is $4,800
No sales tax
Initial 25% deposit of $1,050, non-refundable
You will be emailed an invoice for the final amount once your animal is selected, processed and packaged.
Shipping fees will be added to the final invoice.
We ship to you after the final payment.
or
Pick up at our farm.
Payment methods:
-Credit card on our website
-Bitcoin by email
-Check by mail
Freezer Space: This will require about 8 cubic square feet of space.
Packaging: These cuts are vacuum sealed and frozen.

**All prices include processing, hanging weight, and butchering fees. It also includes products being vac sealed into our heavy airtight freezer plastic that is built to last the test of time. We build in all the costs to give you 100% transparency and so there is no guesswork at the final cost.
Share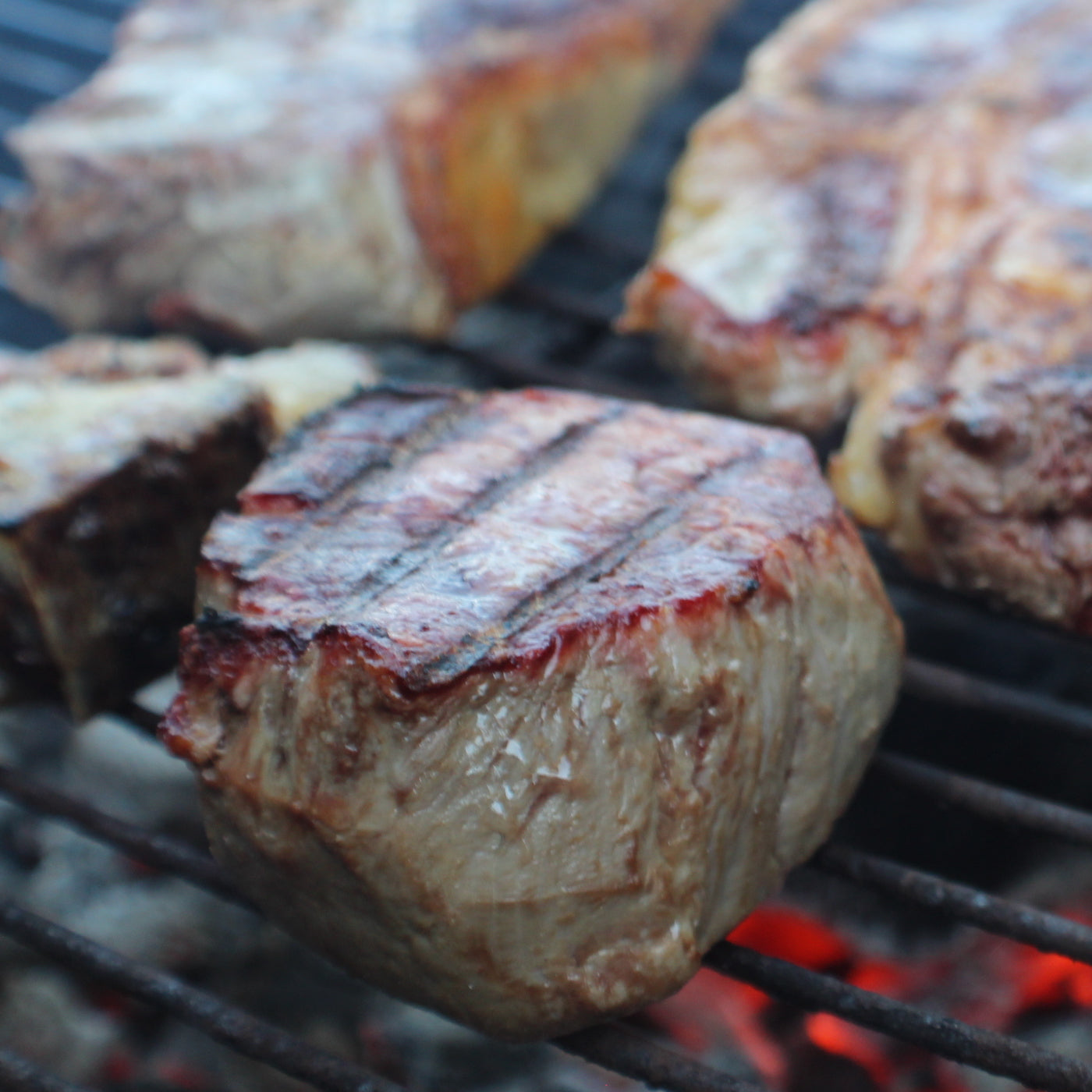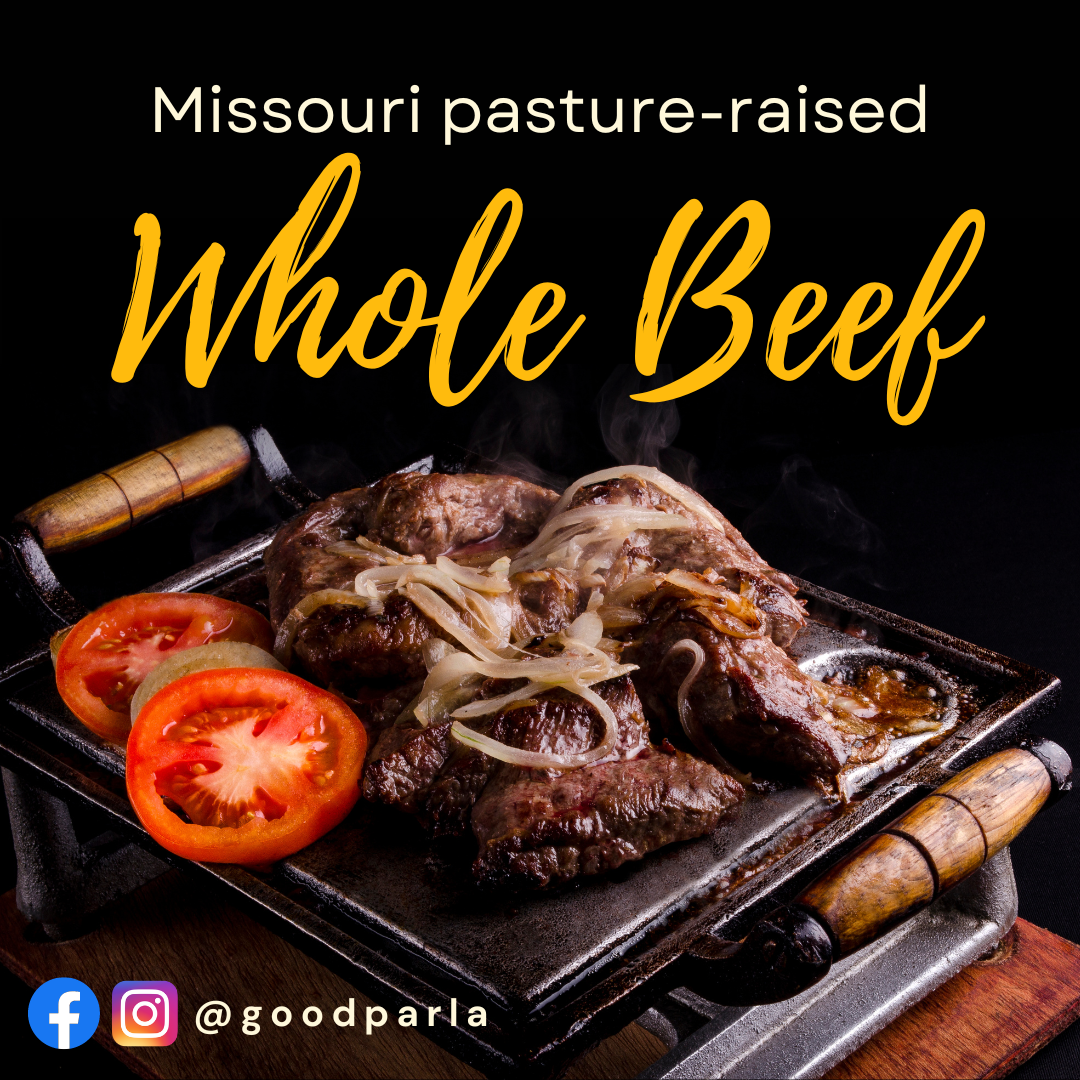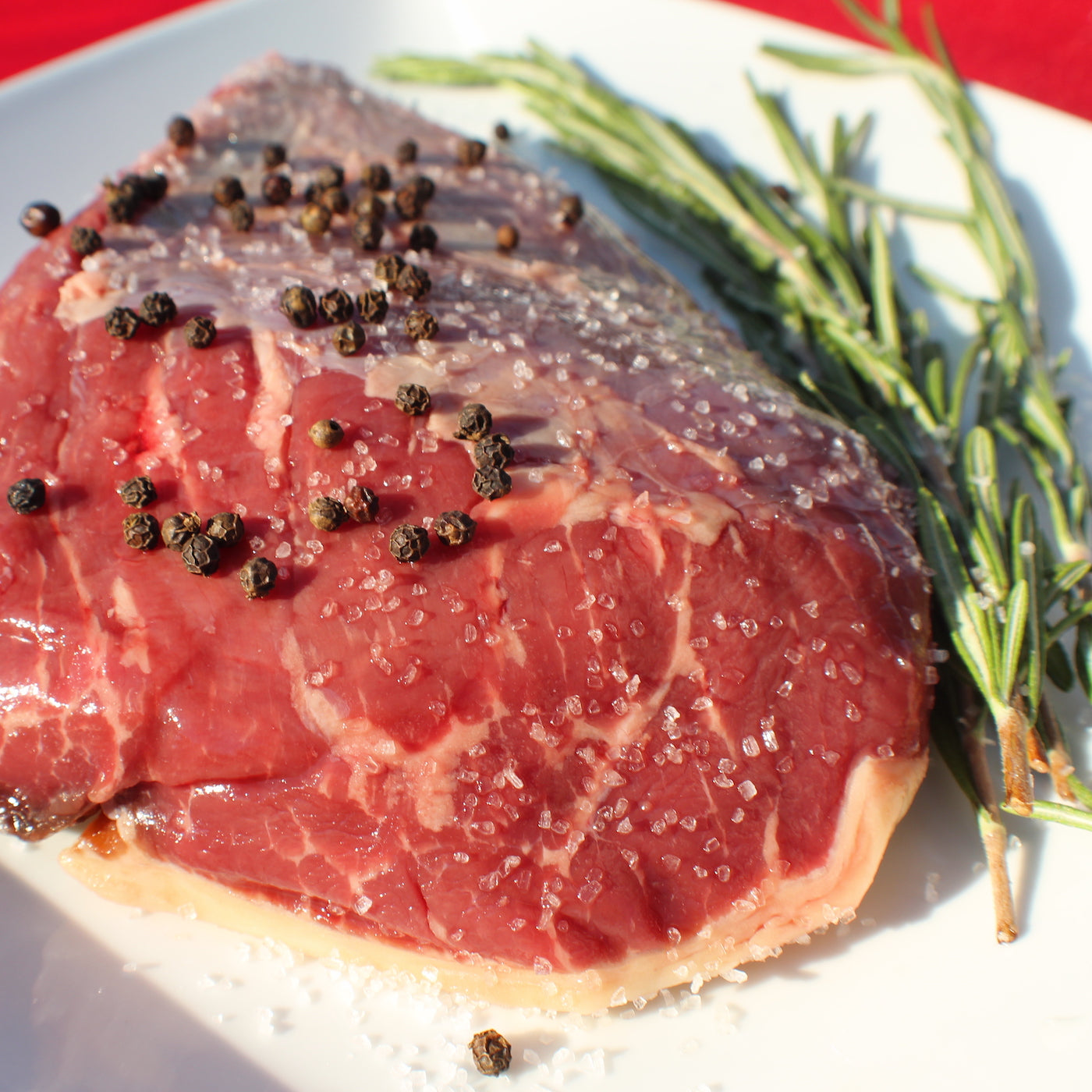 Lean and Tender Beef
• No hormones
• USDA inspected for quality
• Missouri born and raised beef
• Support our family farm
• Support ethical treatment of our livestock
• Support regenerative agriculture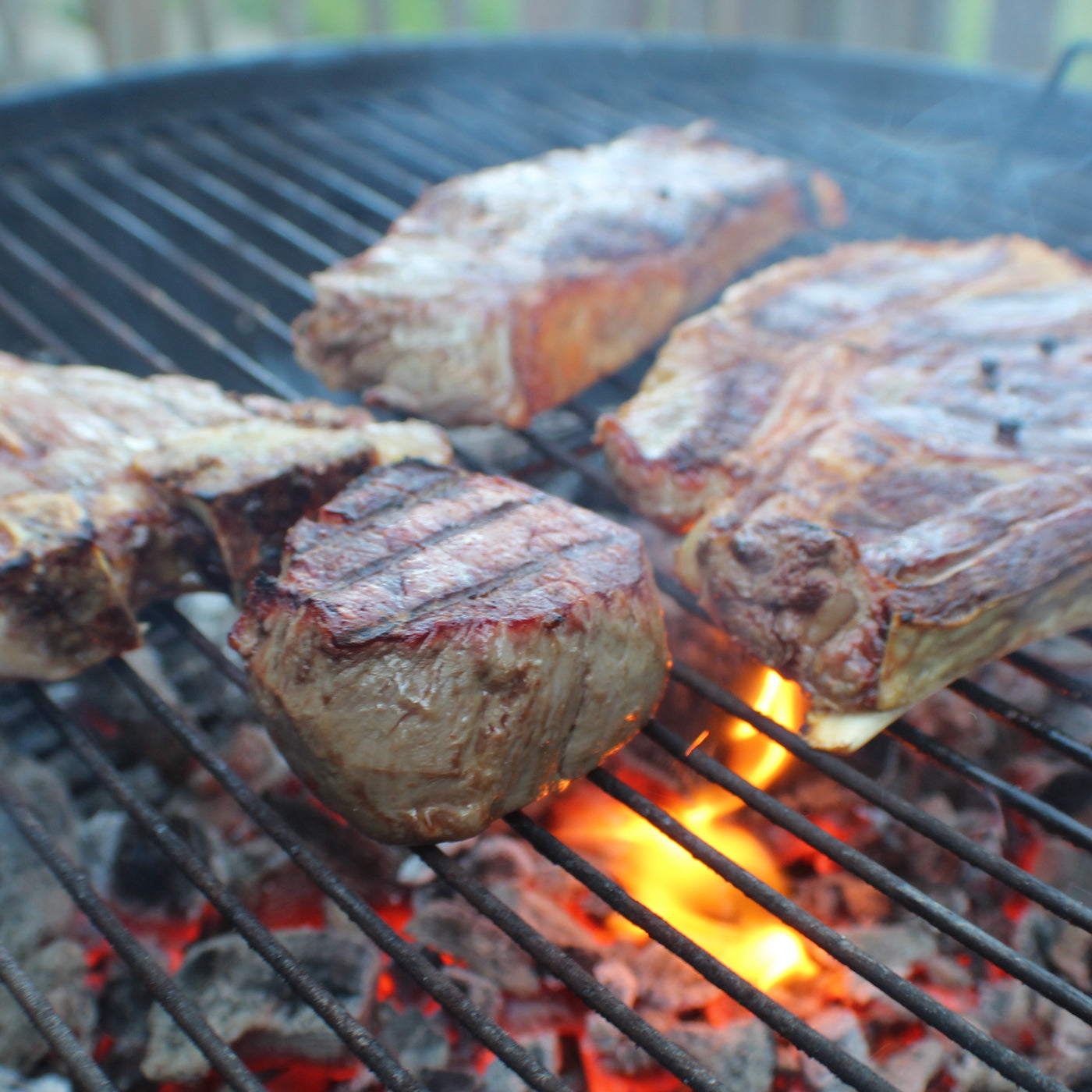 How do I order bulk beef?
Please follow these steps:
Step 1: Select the size of bulk beef you would like to order. We offer Whole, Half, and Quarter shares. 
Step 2: Choose if you want to ship it or pick up your order at our farm in southwest Missouri.
Step 3: We continue to raise your beef for you until the next processing/fulfillment period (see front page for upcoming processing/fulfillment periods).
Step 4: Our USDA certified butchers dry-age your beef up to 14 days which makes for amazing flavor and tenderness. Once packed, frozen, and delivered to our farm, you will receive an invoice for the balance due and schedule your pickup or confirm you will be home to receive it via shipping.
Our Guarantee
We guarantee that you'll be 100% satisfied with our Missouri pasture-raised beef or we'll return your money and let you keep the beef. Yes, that's what we said. No returning any product and a full refund.
Reach out to us for any issues and we'll make it right.
Shipping
We ship on the first Monday of the month from our Missouri farm. We ship on Mondays in order to ensure delivery is not delayed over a weekend.  Our fulfillment periods are four times a year. Our next shipment dates will be May 1st and July 10th. When your package is shipped, you will receive a tracking number. It is advised that you have someone home to receive the shipment in order to put it in your freezer ASAP.
Where does the name Goodparla come from?

Goodparla was the name of a 900,000 plus acre cattle station in the outback of northern Australia owned by Paul Andelin's father, Aubrey in the 1960's and 1970's . We chose the name Goodparla to remember Aubrey's legacy.
Do you use hormones or other growth stimulants?

Many producers use implants that slowly release hormones to increase weight gain. Although many good and responsible cattle producers use these, we have chosen not to for a variety of reasons.
What medicines if any are used in the herd?

We vaccinate all our calves. They get a vaccine for black leg which is a fairly uncommon but potentially fatal bacterial disease. We also vaccinate calves against common respiratory, ocular and gastrointestinal diseases. Common illnesses we deal with include calfhood pneumonia and bovine pink eye. We use vaccines to prevent these diseases but also use antibiotics as needed. We do not use antibiotics for prevention of disease. Overuse of antibiotics is avoided as it can contribute to the development of bacterial resistance. Most cattle here deal with both intestinal and external parasites. These are treated yearly with topical and oral anti-parasitic medicines. No animal is taken for processing until there has been a withdrawal period of at least 30 to 90 days since the last vaccine, antibiotic or anti-parasitic medicine.
What breeds of cows do you have?

Our mother cows are mostly black and red Angus. We use a variety of bulls including Angus, Simangus, Gelbveigh, and South Poll. Cross breeding leads to "hybrid vigor". This means that mating two genetically dissimilar animals results in offspring that are healthier and inherit favorable traits from each parent.
Is your herd treated humanely?

We believe that all life is sacred and should be treated with kindness and respect. When it comes time to "work" our animals with medicines or with weaning, we attempt to do so in a manner that helps the animals remain as calm as possible. We do not "hot brand" our animals as this is quite painful. We use ear tags for identification; this is better tolerated. Dehorning is another painful procedure which we avoid. Instead we use bulls that are polled (without horns)so that the offspring are born without horns.
Where do you ship to?

We ship to the 48 continental states within the U.S.A. We can also ship to Hawaii, Alaska, Puerto Rico, and American Samoa with special arrangements.
Is your beef dry-aged?

Hanging beef in a cool environment helps with tenderizing. Hanging too long decreases the quality of the beef. Our animals are aged for up to 14 days . Our meat processor is very experienced in choosing the optimal aging time for each animal as this may vary according to the composition of the meat.
Is your beef USDA certified?

Obtaining certification from the United States Department of Agriculture (USDA) is a rigorous process. The physical facilities must be inspected and approved. An inspector also must be present during the meat process to assure that the animals are processed in a humane manner and under sanitary conditions. In addition, our processors, Will and Julia Neal have years of experience in the industry. They will alert us if they believe that any of our meat is not up to our usual standard (such as meat that is too tough) even if the meat is approved by the USDA as safe.
What's so great about your pasture-raised beef?

You will know the origin of your beef. You know that it has been raised humanely and responsibly. The animal is processed at a younger age and lighter weight than is typical of feedlot raised cattle. This leads to a leaner, more tender, and more flavorful product.